Who knew that our air fresheners and antiperspirants can be damaging to the environment? Mrs Ifeoma Idigbe, who is the Vice Chairman of the GreenHubAfrica advisory board,  shares tips on how we can take positive steps towards the future of a sustainable nation. She is a founding trustee of WIMBIZ and the founder and executive vice chairman Boys to Men foundation. Mrs Idigbe dishes suggestions on how schools, home and all citizens of Nigeria can start to take proactive steps towards the depreciating state of the environment in the interview below:
What are your thoughts on DigiBrands approach to sustainability with the introduction of Green Hub Africa?
The first step to achieving change is to create awareness, engendering conversation and debate, all of which provide information and expand knowledge. Debates open up new frontiers, entrench ideas, broaden and deepen their acceptability and make then realisable. This is the pivotal and critical role Green Hub Africa will be playing to promote and establish a sustainability culture.
Perhaps I should start by explaining that sustainability is a big word for what we should all be concerned about, what makes common sense – making sure that we live good lives in an environment compatible with human well- being and survival, and most importantly ensuring that our children, grandchildren up to unknown generations can also do so. In this way life on earth will be sustained … hence the word sustainability.
Sustainability cannot be achieved without three key interwoven components, all of which are necessary for human survival and quality of life. These are the environment, social and economic components. Think about it … we live in a material world and must have the Economic means to sustain our lives. That economic means at the most basic level comes from the Environment. Within that environment, we live within Social structures because people live and survive best in communities. Social structures are disrupted and can be decimated by hardship (physical and economic) from the destruction of the environment, and the conflicts that can arise from a virulent competition for survival when resources are threatened and scarce. Sustainability is therefore not achievable without a balance in these three factors. When DigiBrands created a sustainability platform through the establishment of Green Hub Africa, it took a major step to promote human survival. This platform is a mustard seed that will grow into a massive tree, and to use Bible analogy, all the birds of the world will nest in its branches.
This platform will facilitate the identification, compilation and dissemination of information using language and images, encouraging people to develop daily habits that will have big results on our environment, social lives and personal wellbeing. The platform will also feature the diverse ways in which people can achieve economic sustenance by protecting the environment. Promoting sustainability is a win-win strategy. Collecting rubbish for example, does not require special skills, but generates employment and encourages social interaction on different levels with the different players in that social sub-structure, creating a social and economic pipeline. Turning rubbish into useful, usable items provides manufacturing opportunities (for both the equipment to be used and the process of converting the rubbish), provides further employment and opportunities for creativity (art and design) for the goods produced from the rubbish, which in turn have a practical use or create beauty. Most importantly, collecting rubbish cleans up the environment, makes it healthier and more habitable, and sustains it for future generations. Sustainability thus creates an amazing social and business ecosystem! The Green Hub Africa platform by providing content and a space for like-minds to interact and share knowledge, will become an invaluable resource in this developing human and earth survival – based industry.
As more people buy into the sustainability vision and join the platform, stronger networks will be established across Africa and indeed the world since environmental concerns affect us all. DigiBrands is to be commended for this initiative.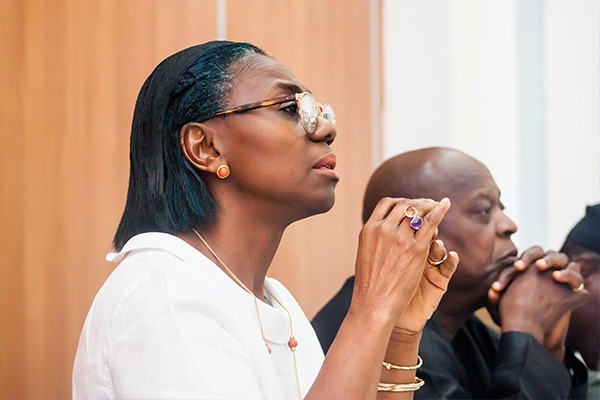 In what ways do you look forward to applying your expertise to the initiative as the Advisory Board Vice Chairman?
I am not sure the word expertise would apply to me with regards to sustainability. There is so much happening in this expanding space, new knowledge, new innovation. Consider also that GreenHubAfrica is a novel idea in Africa. I will say however that this initiative is important to me because I can see the destruction we are causing to the environment and its negative social and economic impact.
On professional and personal levels, I have management, finance and human resource management abilities. I am also a thinker on many levels, a writer, and an art enthusiast with some design talent. I am what can be termed a Creative and can make contributions on many levels that might be useful to GreenHubAfrica in my role as Vice Chairman. But honestly, Vice Chairman is just a title I am honoured to have been given. All of us on the Advisory Board, led by the Chairman, Professor Obas John Ebohon and the founder Henry Bassey, will TOGETHER make a difference using our individual talents collectively – as one body. We will all learn together on this initiative, hopefully create and innovate, and work to save our world and humanity. That, is an exciting thought!
What advice would you give to Nigerians to encourage the motive of environmental sustainability in our homes and environment?
Start simple. Start small. Form good habits. Don't throw rubbish on the road. Teach your children not to. Don't throw rubbish out of cars. Dustbins should be provided in public places. Do not pour concrete on all the ground around your house. Leave some earth to plant on. Plant shrubs by walls or in drums/pots. Don't use theroadside or river sides as toilets, and teach your children to do likewise. If you live in a communal compound create a roster for keeping the compound clean. Teach the community the health dangers associated with having dirty compounds especially for children. Discourage the indiscriminate burning of rubbish, especially tyres.
All schools must be required to have tree planting exercises for their students. Every developer must leave a green space or park no matter how small in every estate and insist on plants in every house on the estate.
Do not leave standing water in your compound and drain small pools of water to stop mosquitoes from breeding. Clean your house well so cockroaches will not breed. These will reduce the need for insecticides such as Raid, Shell and Baygon. Do not use aerosols such as air fresheners and antiperspirants (use roll ons instead). These insecticides and aerosols and other sprays add to chemicals in the atmosphere and are a health and climate hazard. Keep your house fresh by opening windows and curtains and simply keeping it clean.
Go to the next level. Those who can afford it should think of electric cars. Car sales companies should think of importing them. This will reduce toxic gas emissions from cars. There should be a policy that Nigeria cannot import second hand cars older than a specified number of years … the emissions get worse as cars get older.
Encourage the use of solar panels to produce clean energy. Solar generated electricity is becoming cheaper and more accessible. Besides it's not as if our power infrastructure is efficient! The generators we use contribute a massive amount of noise and air pollution.
See rubbish as an economic resource. Encourage rubbish collection services through small businesses to provide employment and generate income by supplying recycling companies.
Encourage good habits. This will eventually create an ever increasing, conscious community of believers in sustaining our environment and seeing economic opportunities whilst tightening social bonds through common practices. This is how society is changed, incrementally, slowly but surely.